Developed from our direct involvement with BTCC, Forge is proud to release an oil cooler kit for the Hyundai I30N. We have then designed the rest of the kit so that it fit's the I30N perfectly and the result is a bespoke oil cooler kit with true motorsport development behind it. It works superbly well and is also tough and durable.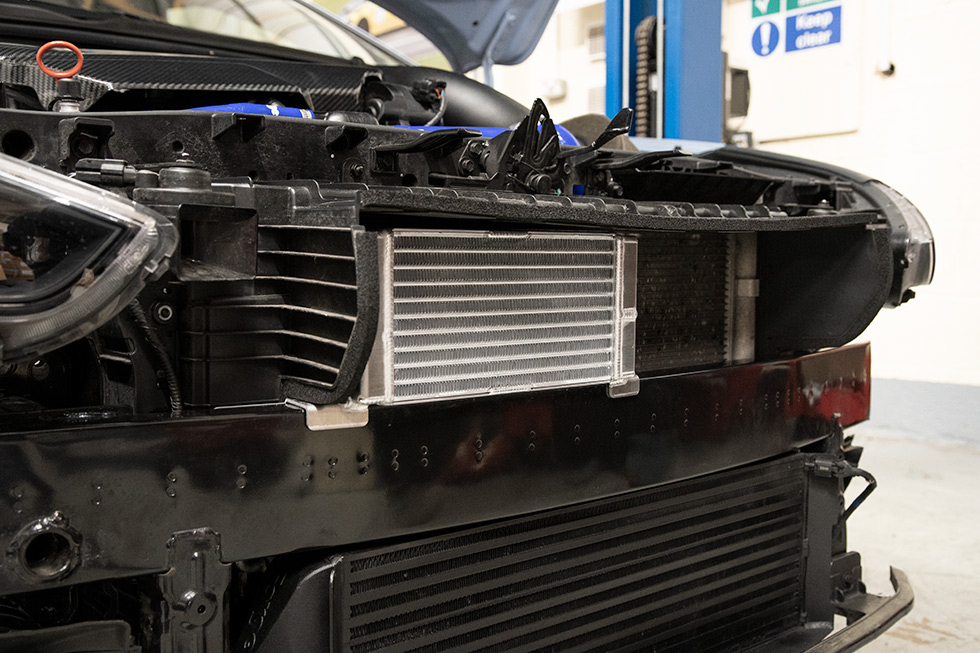 With Forge Motorsport developing many performance parts for the Hyundai I30N/Veloster N to make them go faster, the addition of power and speed creates heat. Rising oil temperatures will result in only one outcome, a reduction of sufficient lubrication of your engines internal components. Therefore, the FMOC11 is a must have product for the keen driver, the location of the oil cooler radiator at the front of the vehicle's radiator grill allows for superior air flow. During our development of this product we have seen oil temperatures reduced significantly.
Unlike many oil cooler kits, the FMOC11 keeps the factory oil to water cooler in position. This essentially doubles your engines oil cooling.
Unlike a universal oil cooler, the FMOC11 has a laser cut aluminium bracket which makes for perfect fitment to the I30N crash bar.Supplied with the kit are 2x pre-assembled high-quality double braided AN-8 oil lines.
The kit comes with the following:
1x Forge Aluminium sandwich plate
1x Twin pass oil cooler
4x M6x20 fasteners
4x M6 washers
2x Oil lines
4x M6 Rubber Riv nuts
1X M20x1.5 adaptor
All the fixings required
Average ratings
No review